La Traviata: Torment [cough-cough] & Delight [kiss-kiss]

Focile & Pittas, top; Guitérrez & Demuro, bottom. Seattle Opera photos by Rosarii Lynch
It's the original Anna Nicole story: first you party, then you die. Yes, there's torment, but pleasure comes first. A familiar operatic plot (Moulin Rouge, La Bohème), telegraphed by the heroine's consumptive hack as the curtain rises: she's a-gonna croak before the night's out.
Couple of years ago, the great Sicilian soprano Nuccia Focile wheezed and expired as Mimi on this same stage. She returned to town as Nedda and got herself stabbed by Tonio in Pagliacci. Now she's back, no less doomed and even more delicious as Violetta, the courtesan who inspires love, betrayal and some of Verdi's most glorious music. "Sempre libera," she proclaims, opting for a carefree life of opulent ballgowns and lavish parties, but she gives her heart to Alfredo and finds true love. Then the lovebirds are betrayed by Alfredo's uptight father; by the time things are straightened out, it's too late.
An opulent and lavish production, this Traviata, from San Francisco Opera, bathed in rich orchestral tones under the baton of Brian Garman (whose day job is directing Seattle Opera's Young Artist Program). American tenor Dimitri Pittas is a stocky (rather than saucy) Alfredo, overshadowed by his sonorous father, baritone Charles Taylor (last heard in Seattle as Amonasro in Aida). But the show depends on the performer who sings Violetta, and it's as a dramatic actress that Focile creates her character, well aware that her life will be short, torn between the pleasures of endless parties and the deep love she feels for Alfredo. Focile's vocal talents give particular poignancy to her Act I aria, "È strano! È strano!" in which she acknowledges both the burden (croce) and delight (delizia) of love. (There's even a blog titled Croce & Delizia; it's about baking cookies.) Focile's voice is on the light side, as Violettas go (compared, say, to Callas), but her phrasing is impeccable. She doesn't try to impress you with knockout high notes; she stays in character: a brave woman with a fatal disease, alone in "the desert of Paris," a little terrified that she might be able to escape her life as a courtesan through the redemptive delight of true love.
UPDATE: Silver cast shimmers, according to early reports. Eglise Guitérrez, local favorite, in fine voice, and tenor Francesco Demuro making his North American debut to standing ovation.
Seattle Opera presents Verdi's La Traviata, through Oct. 31. Tickets start at $25. Box office: call 206.389.7676 or 800.426.1619, or purchase online.
Posted by Ronald Holden at October 19, 2009 9:00 AM | TrackBack

Recent Entries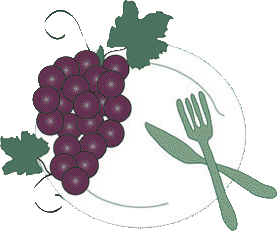 The International Kitchen
Cooking school vacations in Italy, France & Spain.
Archives
Links
The International Vineyard
, a new way to learn about wine in France, Italy and Spain: three-night programs for wine lovers in less-traveled regions.
The International Kitchen
, the leading source for culinary vacations in France and Italy.
French Word-A-Day
, fascinating lessons about language and daily life in Provence
Belltown Messenger
, chronicle of a Seattle neighborhood's denizens, derelicts, clubs, bars & eateries. Restaurant reviews by Cornichon.
Small Screen Network
, where food & drink celebrities like
Robert Hess
have recorded terrific videos.
French Chef Sally
is my friend Sally McArthur, who hosts luxurious, week-long cooking classes at the Chateau du Riveau in the Loire Valley.
Local Wine Events.com
, the worlds leading Food and Wine tasting calendar. Spirits and Beer events as well. Post your own event or sign up to be notified when new events are po sted to your own area.
VinoLover
, Seattle wine promoter David LeClaire's bulletin board of tastings, dinners and special events.
Wine Educator
Dieter Schafer
maintains a full schedule of Seattle-area tastings and seminars for amateur wine drinkers and professional alike.
Nat Decants
, a free wine e-newsletter from Natalie MacLean, recently named the World's Best Drink Writer at the World Food Media Awards in Australia. Wine picks, articles and humor; no ads.

More blogs about
food wine travel
.
Who links to me?