Traveler's Notebook: Apulia
ROME--where the giant airport sign doesn't say "Welcome to Fiumicino," but "Emporio Armani," and even the dude driving the courtesy cart sports Gucci eyewear. The passengers are wrapped in silk scarves knotted casually at the throat with carefully studied elegance. Designer footwear and handbags everywhere. The flight? Well, Alitalia was shotgunned into a merger with its regional rival Air One two weeks ago, and sold 25 percent of itself to Air France last week, so it's a bit early to say much, other than no inflight magazine, no cocktails, and very few passengers. They showed a movie, though: Fred Claus (Christmas, 2007). Oh the shame, the shame, of seeing Paul Giamatti in last season's Santa suit.
BRINDISI--Everybody loves mozzarella, right? Thanks to its popularity as a topping for pizza, it's America's favorite cheese. But most mozzarella is nothing more than plastic; it's more like Velveeta than genuine cheese. But here in Apulia (the "heel" of the Italian "boot"), you find the real thing.
We're staying at a resort called Masseria Torre Coccaro, just inland from the beach beetween Brindisi and Bari. Last night, a buffet to introduce our international delegation (press, tour operators, wine buyers attending a conference called Puglia Wine & Land) to the foods of Apulia. Highlight of the evening: the cook making handmade burrata. A pinch of regular mozzarella (ideally, made from buffalo milk, kneaded and pulled) is filled with a dollop of fresh cream (sometimes with chives added), squeezed tight, and served at room temperature, on its own or with tangy local tomatoes. The cheese is so fresh and buttery (burrata literally means buttered), it's best when eaten within the day. Almost never found in stores outside the region.
LECCE--More mozzarella! This time, it's mozzarella and creamy béchamel (white sauce) flavored with some chopped tomatoes and baked inside phyllo dough. These concoctions, about the size of a donut, are served at room temperature only here, in the province of Lecce, the southeastern tip of the Italian boot. We had them mid-morning at a tasting at Apollonio, a family estate specializing in red wines from local primitivo and negroamaro grapes.
Rustici normally means "rustic," but these are quick and delicious snacks, quite sophisticated. The phyllo dough comes from the proximity to Greece, just across the Adriatic Sea from this flat, fertile region. The cheese, of course, is home-grown. Recipe here.
The town of Lecce, capital of the province, isn't Greek or Turkish at all, but Baroque. Some things Italian remain mysterious.
We're here for a few more days. If camera battery holds out, more pictures soon.
Posted by Ronald Holden at January 31, 2009 12:25 AM | TrackBack

Recent Entries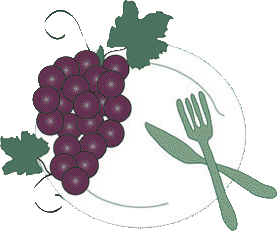 The International Kitchen
Cooking school vacations in Italy, France & Spain.
Archives
Links
The International Vineyard
, a new way to learn about wine in France, Italy and Spain: three-night programs for wine lovers in less-traveled regions.
The International Kitchen
, the leading source for culinary vacations in France and Italy.
French Word-A-Day
, fascinating lessons about language and daily life in Provence
Belltown Messenger
, chronicle of a Seattle neighborhood's denizens, derelicts, clubs, bars & eateries. Restaurant reviews by Cornichon.
Small Screen Network
, where food & drink celebrities like
Robert Hess
have recorded terrific videos.
French Chef Sally
is my friend Sally McArthur, who hosts luxurious, week-long cooking classes at the Chateau du Riveau in the Loire Valley.
Local Wine Events.com
, the worlds leading Food and Wine tasting calendar. Spirits and Beer events as well. Post your own event or sign up to be notified when new events are po sted to your own area.
VinoLover
, Seattle wine promoter David LeClaire's bulletin board of tastings, dinners and special events.
Wine Educator
Dieter Schafer
maintains a full schedule of Seattle-area tastings and seminars for amateur wine drinkers and professional alike.
Nat Decants
, a free wine e-newsletter from Natalie MacLean, recently named the World's Best Drink Writer at the World Food Media Awards in Australia. Wine picks, articles and humor; no ads.

More blogs about
food wine travel
.
Who links to me?